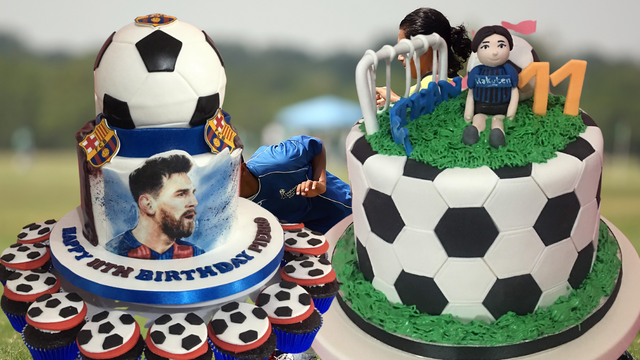 Soccer Theme Cakes Collection
Feb. 25, 2023
Soccer or football is a popular sport that is enjoyed by millions of people around the world. It's no wonder that soccer-themed cakes are also in high demand. If you're a sports enthusiast or athlete, or you know someone who is, then these soccer theme cakes are perfect for you.
At Charm's Cakes, we offer a variety of soccer-themed cakes that will surely delight any soccer fan. From simple and elegant designs to elaborate and intricate creations, our soccer theme cakes collection has something for everyone.
Our soccer theme cakes are available in various sizes and designs to suit your preferences. You can choose from our pre-designed cakes or customize your cake to suit your unique style. You can have your cake shaped like a soccer ball, a soccer field, or even have it decorated with soccer player figurines.
Our soccer theme cakes are not just visually stunning, they are also made with high-quality ingredients. We use premium ingredients to ensure that our cakes not only look good but taste great as well. Our moist chocolate and vanilla flavors will surely be a hit among your guests.
So, whether you're celebrating a birthday, a victory, or just want to show your love for soccer, our soccer theme cakes collection is perfect for any occasion. Order now and experience the joy of soccer in every bite.
Visit our website at https://www.charmscakes.com/designs/sports to browse our soccer theme cakes collection and place your order. We offer delivery within Metro Manila and our customer service team is always ready to assist you.